Community
Moving into the community: Support when you leave Halls
When you live in our accommodation, there is a whole halls' support system to help you with any issues you have. Once you leave halls and move in to the community, we recognise that there may be times when you are the victim of problematic behaviour off-campus. See below a list of organisations you can reach out to for advice or support.

Liverpool Guild of Students
Your Students' Union has a free, independent and completely confidential advice service which offers support with wellbeing, academic and housing related issues. Please visit the Guild website here to find out more or make an appointment. Your four elected Student Officers who work at the Guild are also on hand to listen to your issues and speak on your behalf to the likes of the University, if necessary. You can find out more about the team and contact them here. 
Liverpool City Council
The Council provides a range of services and advice on environmental, community and housing issues. You can contact Liverpool City Council to report problems with noise, refuse and recycling, parking and other local issues. Visit their website here.

Merseyside Police
Call 999 in an emergency. Call 101 to report urgent, criminal or antisocial behaviour. Report non-urgent incidents online here.
Liverpool Student Homes
A University-funded service for students in private accommodation, providing free housing advice to all students. Visit the LSH website here.

Liverpool Guild of Students
Housing advice can provided by the University's students' union, click here to visit their website.
University of Liverpool Student Services
Offering support and welfare services through two teams: Student Welfare Advice and Guidance, and the Counselling and Mental Health Services, the central Support Services will be able to help you or point you in the right direction. Click here to see the range of support on offer.
Tenants' Noise and Antisocial Behaviour Guidance
This document lists everything from what is antisocial behaviour to statuary noise nuisance, and what to do if you're experiencing these issues - Tenants' Noise and Anti-Social Behaviour Guidance -Living in a Residential Community.pdf (1 MB)
If there is an occasion where you wish to make a complaint about noise and antisocial behaviour in the community, you can use the reporting flowchart below for guidance.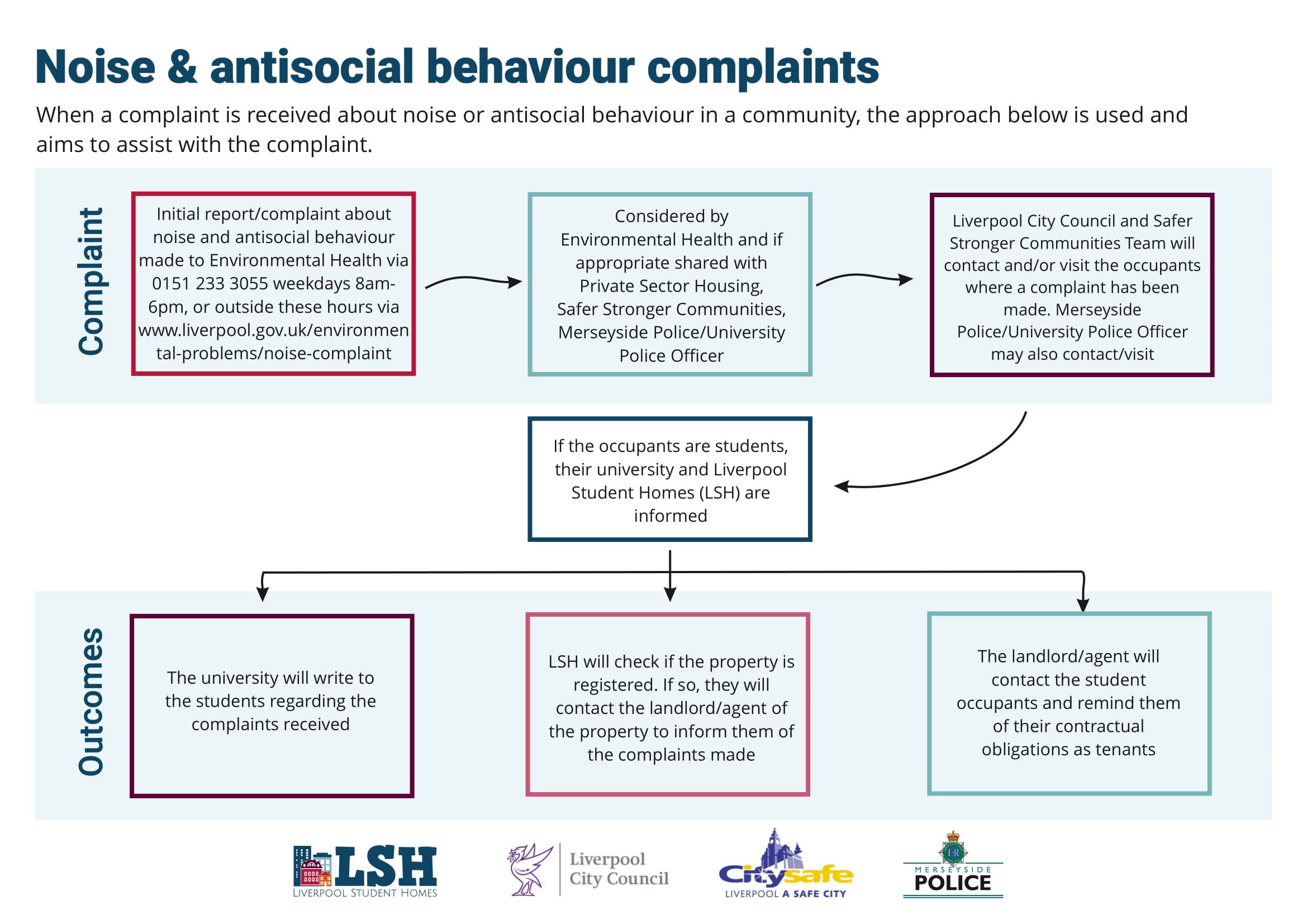 Topics