Community
Don't rush to rent!
Feeling rushed to sign up for a house next year or feeling unsure on what your options are? Liverpool Student Homes are here to help you take your first steps in the initial search for housing, whenever that might be!
In first semester you might hear of others signing up to housing contracts for next year. Naturally you might feel like you should be doing the same, but rest assured that there is so much housing in Liverpool that there is no rush to rent. Just this year alone, Liverpool Student Homes advertised 19,322 bed spaces and 6,208 houses and flats for students to choose from so as you can see, there is so much availability!
Don't be pressured into securing accommodation too early. Don't be influenced by rumours that there will be no accommodation left. The earlier you sign for your accommodation, the more chance you have of experiencing problems. By the summer you could have fallen out with your prospective co-tenants but have a signed agreement that you can't cancel.
Wherever you are up to in your housing search, it's important to remind yourself that everyone's journey in finding housing is different and starts at different times. The right time to sign up for a housing contract is when you feel ready and prepared.
What are your options for next year?
Don't forget that University of Liverpool has Halls for returning undergraduates which means that you could live with us again next year. Find out more here or get in touch with the Accommodation Team accommodation@liverpool.ac.uk.
Your other option is to go for private accommodation. It can be a little daunting to think about the search for housing but doing it through Liverpool Student Homes (LSH) gives you the reassurance that you're signing up to a contract with an accredited accommodation provider. Landlords who sign up with LSH must sign up to LSH's standards which offer you a high degree of protection and a complaints procedure in case anything goes wrong.
Using the simple search tool on Liverpool Student Homes' website, you can search for the right home for you in seconds. Liverpool Student Homes will release their properties for 2022/23 on 1st December but you can check out the website in the meantime to familiarise yourself!
Join the Halls Community Fair on Thursday 17th November where Liverpool Student Homes will be offering Housing Talks, answering your questions and will be giving advice on all things housing! Don't miss out, register for the Halls Community Fair here.
On 8th December, there is the Housing Fair ran by Liverpool Student Homes, 11am-3pm in Mountford Hall, Guild of Students. It's an opportunity for you to research your accommodation options for next year by browsing the stalls, chatting with accommodation providers and picking up some freebies. You can take your time to have a look and there is no obligation or pressure to sign up for any tenancies
Click here for tips on finding the perfect home for you!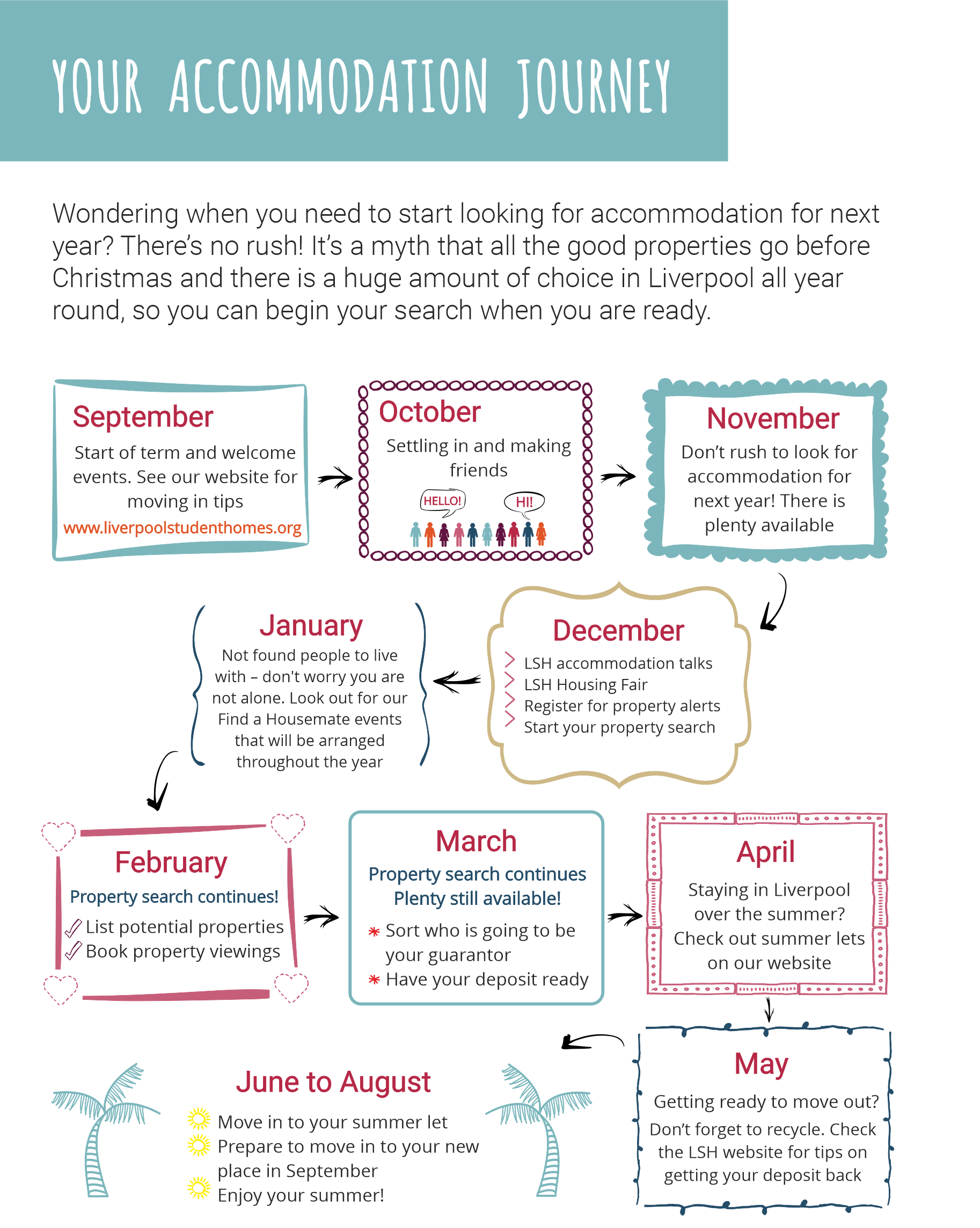 Topics